Los Angeles Media & Film Studies School Trips & Tours
Take a unique school trip to the heart of America's media and film wonderland with NST! From studio and backlot tours to hands-on workshops led by industry experts, there's no place in the world like LA.
We've teamed up with some premier venues to offer educational options spanning all manner of topics, from the moving image, television and radio, to the exciting world of editing, cinematography and film. This diverse destination where the movie industry lives and breathes won't fail to leave your pupils amazed and inspired.

Specialist Workshops
Sample itinerary
Our sample itinerary provides you with an idea of the visits you can cover during your trip. We can tailor-make an itinerary to support your specific learning outcomes.
Morning
Afternoon
Evening
1
Daytime flight & transfer to accommodation
Free time to explore the local area
2
Guided tour of Hollywood Boulevard (Walk of Fame, Kodak Theatre, Grauman's Chinese Theatre, Hollywood sign view & Hollywood & Highland)
Visit to Santa Monica
Free-time
3
Sony Studios Walking Tour
New York Film Academy 2-hour Interactive Session
Free time - swimming
4
Full day at Universal Studios Theme Park (including Back-Lot tour)
Free time at Universal City
5
Venice Beach, including shopping & sightseeing
Transfer to airport for overnight return flight to Ireland
6
Arrive in Ireland
Morning
Daytime flight & transfer to accommodation
Afternoon
Free time to explore the local area
Evening
| | |
| --- | --- |
| Morning | Guided tour of Hollywood Boulevard (Walk of Fame, Kodak Theatre, Grauman's Chinese Theatre, Hollywood sign view & Hollywood & Highland) |
| Afternoon | Visit to Santa Monica |
| Evening | Free-time |
| | |
| --- | --- |
| Morning | Sony Studios Walking Tour |
| Afternoon | New York Film Academy 2-hour Interactive Session |
| Evening | Free time - swimming |
Morning
Full day at Universal Studios Theme Park (including Back-Lot tour)
Afternoon
Free time at Universal City
Evening
Morning
Venice Beach, including shopping & sightseeing
Afternoon
Transfer to airport for overnight return flight to Ireland
Evening
Morning
Arrive in Ireland
Afternoon
Evening
On-tour support includes...
Additional on-tour support available...
Pre-booked meals at great group prices
---
Accommodation
Popular options in Los Angeles
Los Angeles
This is only a sample of our entire range, so for expert advice on accommodation to suit your group's specific needs, speak to one of our team.
---
Top visits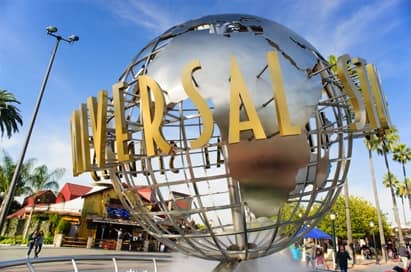 Universal Studios & Studio Tour
Get ready for the ultimate Hollywood experience! Find a full day of action-packed entertainment all in one place:
Thrilling theme park rides and shows, a real working movie studio, and Los Angeles' best shops, restaurants and cinemas at CityWalk. Universal Studios Hollywood is a unique experience. Go behind-the-scenes on the legendary Studio Tour to explore Hollywood's most famous backlot in the world's largest working movie studio. Visit 13 city blocks on four acres of historic studio lot in the largest set construction project in studio history, built with creative consultation from Steven Spielberg himself. Then face heartpounding rides and shows that put you inside some of the world's biggest movies.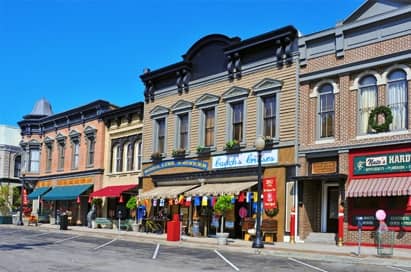 VIP Warner Bros. Studio Tour
Step aboard a VIP cart and enjoy this truly fascinating behind-the-scenes visit led by a knowledgeable guide. See external sets from TV shows and movies, such as Spiderman. Venture onto the popular The Big Bang Theory sitcom set and learn how it is created. Take a peek behind-the-scenes in 'The Mill' where sets are constructed. Find out about sound effect creation and see props and costumes up close. We highly recommend this visit, and can organise customised tours to your exact preferences. Stage 48: Script to Screen – opened in July 2015 following a major expansion, this is an innovative new addition to the Studio Tour. Your students will have the unique opportunity to explore the full film and television production process – from the earliest scripts and casting sessions to the final touches in post-production and the glory of awards season, each component is represented step-by-step throughout the purpose-built soundstage.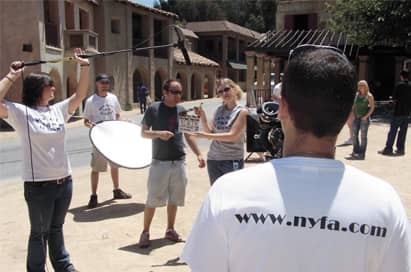 New York Film Academy (LA)
Situated on the backlot of Universal Studios, the NYFA (LA) offers our groups the opportunity to learn from exciting hands-on sessions with the opportunity to use state-of-the-art equipment. We recommend you spend at least 2 hours at the academy.
Digital Editing
Students get involved in shot selection and manipulation in this overview of film editing.
Digital Cinematography
Your group will create camera and lighting set-ups, then record and screen the footage for analysis and critique.
Director's Craft
Your group will use equipment to try out film direction, and be taken through the process of creating shots and scenes.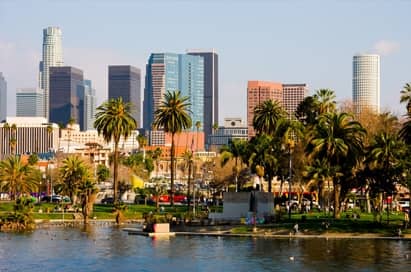 You choose the places you would like to visit and our local expert guide will escort you on your coach, whilst delivering valuable knowledge of the area and attractions. You'll be able to hop on and off wherever you please. Santa Monica, Beverly Hills and Hollywood are always group favourites.
Take a short tour then select from over 120,000 programmes for your own private theatre screening. Options include historic news broadcasts, documentaries, dramas, soaps, sports programmes, and much more.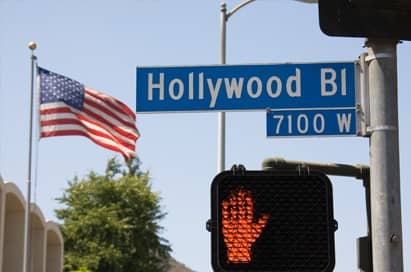 Dolby Theatre Tour -The 'Home of the Academy Awards®'! See an Oscar® statuette, and find out where your favourite celebrities sat during this year's ceremony.
Grauman's Chinese Theatre - You will be taken inside this historic theatre and will learn about its history and the premieres that have been held here.
Walk of Fame -Visit this world famous sidewalk that's paved with thousands of stars, handprints and footprints.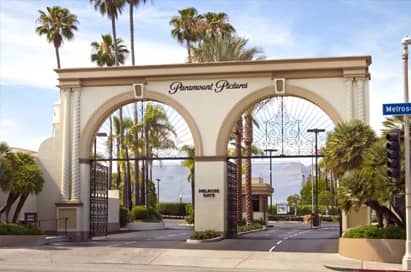 Take a guided tour of Paramount Studios' backlot, by tram and on foot. The tour takes a full two hours, and merely scratches the surface of the numerous buildings and sound stages that make up this 62-acre sprawling studio.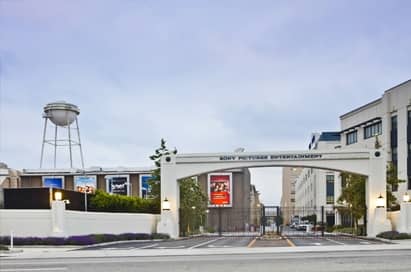 This walking tour provides a realistic, day-to-day perspective of how the industry works. You'll walk around famous film sets and learn how 'Foley Artists' produce sound effects. See backdrops being created and learn how they are used. Step inside the Jeopardy game show set. You might even stumble upon a stunt man in action!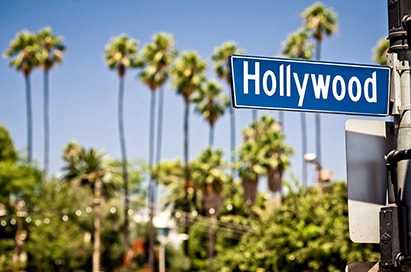 Travelling by luxury air-conditioned minibus, you'll see over 50 movie stars' homes on this tour. See the famous Beverly Hills, Bel Air, Holmby Hills and Hollywood Hills.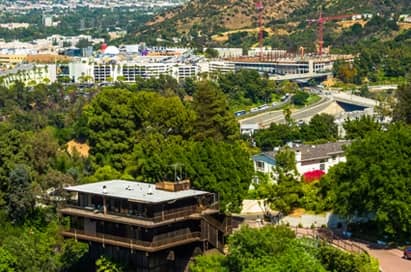 Following a day at Universal Studios, Universal City is the ideal location for your evening meal. The lively and safe CityWalk® is open late and houses restaurants, bars, a cinema, plus souvenir shopping opportunities too.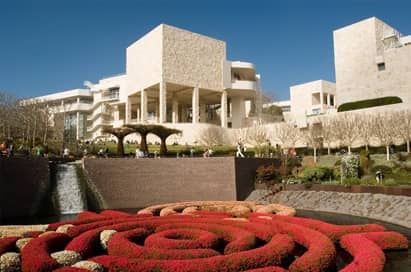 This free museum presents changing exhibitions from its collection of drawings, manuscripts and photographs against a backdrop of dramatic architecture and tranquil gardens, with breathtaking views.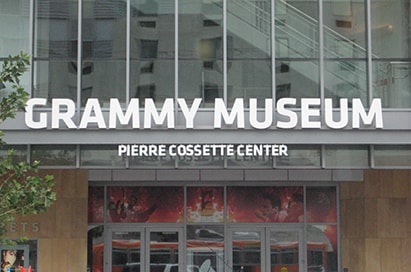 A self-guided museum tour immerses students in a cutting-edge experience – complete with interactive exhibits, films and artefacts designed to explore the historical, cultural and social context of music. Upon entering the museum, students are engaged as they learn about the creative process and the art and technology of recorded sound. Workshops are also available.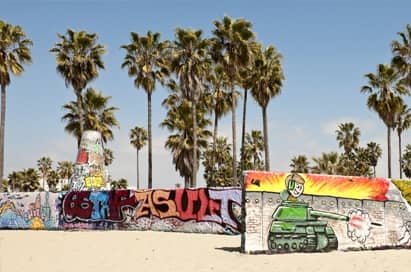 Venice Beach & Santa Monica
At Venice Beach you'll snap up some great value souvenirs, watch street performers and stroll past 'muscle beach'. The more upmarket Santa Monica has a great range of retail outlets, and is a fantastic option for last minute shopping. An ideal morning visit en route to the airport.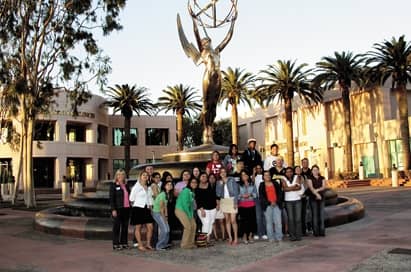 The ideal addition to a NoHo workshop. See the famous 27-foot golden Emmy Statue, take in the many theatres, or enjoy a recording studio tour in this up-and-coming arts district. NoHo is an ideal place to stay for an evening meal.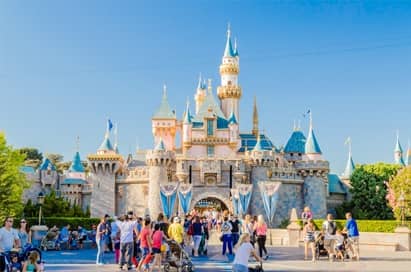 This adventure park offers a great alternative to Universal Studios and includes some family-friendly rides as well as an emphasis on adult thrill rides.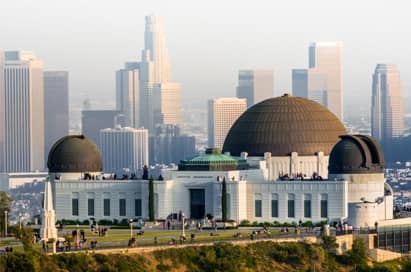 Griffith Observatory is an icon of Los Angeles, a national leader in public astronomy, a beloved civic gathering place, and one of southern California's most popular attractions. The Observatory is located on the southern slope of Mount Hollywood in Griffith Park, just above the Los Feliz neighbourhood. It is 1,134 feet above sea level and is visible from many parts of the Los Angeles basin.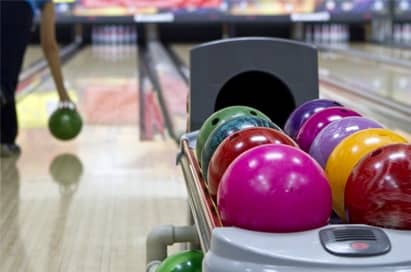 Ideally located in Studio City, two minutes from our key accommodation choices, this is a great way to fill an evening at little expense.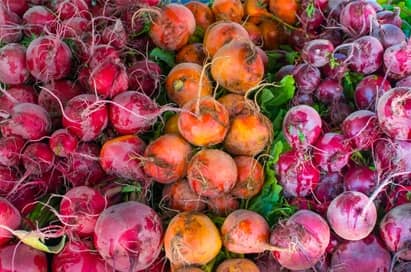 This, the city's oldest outdoor market, is one of the most popular tourist destinations in Los Angeles. With 30-acres containing over 70 stalls, stores, markets and cafés, this indoor/outdoor bazaar offers what must be one of the most eye-dazzling displays of food and produce ever presented to the public.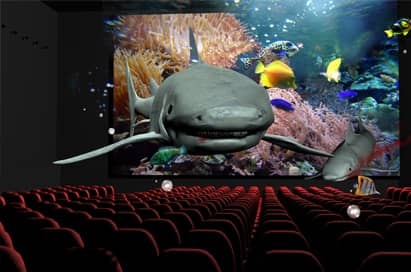 Four enormous six-storey screens are available across LA – though our favourite is the one at Universal City. With a whole range of exciting 3D and feature films to enjoy, this is the ideal way to take time out from your busy itinerary!
---
Evening activites
Pinz Bowling
Universal City
Imax Cinema
---
Transport
We offer flights from a variety of departure airports and we'll work with you to plan your route at the best value possible.

Flight
---
Giving you full support throughout
Before your tour
Your own dedicated NST contact
Bespoke tour itineraries
Unrivalled local knowledge & expertise
Curriculum linked visit programmes
Great value for money - no hidden costs
Free group leader inspection visits
Risk assessment guidance
Safety assured, transport, accommodation and visits
Whilst you're away
Free educational resources
Group-friendly accommodation
Exceptional standards of coaching
On-tour support from our reps on the ground
Support & assistance from our specialists guides throughout your tour
24/7 support just a call away
Extensive group travel insurance
On your return
Priority rebooking services
Rewarding your loyalty with our reward scheme
You say, we listen - we're committed to continuously improving our tours
School travel company of choice since 1996